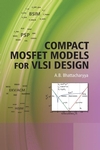 Compact MOSFET Models for VLSI Design
A. B. Bhattacharyya
ISBN: 978-0-470-82342-2
Hardcover 512 pages April 2009
This book is essential for students specializing in VLSI Design and indispensible for design professionals in the microelectronics and VLSI industries. Written to serve a number of experience levels, it can be used either as a course textbook or practitioner's reference.
Read more...
Access the MATLAB code, solution manual, and lecture materials at
the companion website
.